Lok-Inn, because ...
1


All rooms have shower and WC

2


We offer pollen filtered spaces

3


The price includes: buffet breakfast

4


The board area is non-smoking
The station building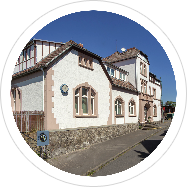 Central location with comfort
The Niederwalluf station was built in 1903 and purchased privately by Deutsche Bahn in 2009. It was the owners very keen to bring the building back to life and to feed his use of the public. The area in which the board is located, was built for the most part new in 2011, renovated existing subareas consuming. Due to effective noise control measures, it is very quiet despite the location of the building on the railway in the rooms.
The operators themselves live in the house and are therefore easily accessible for you.